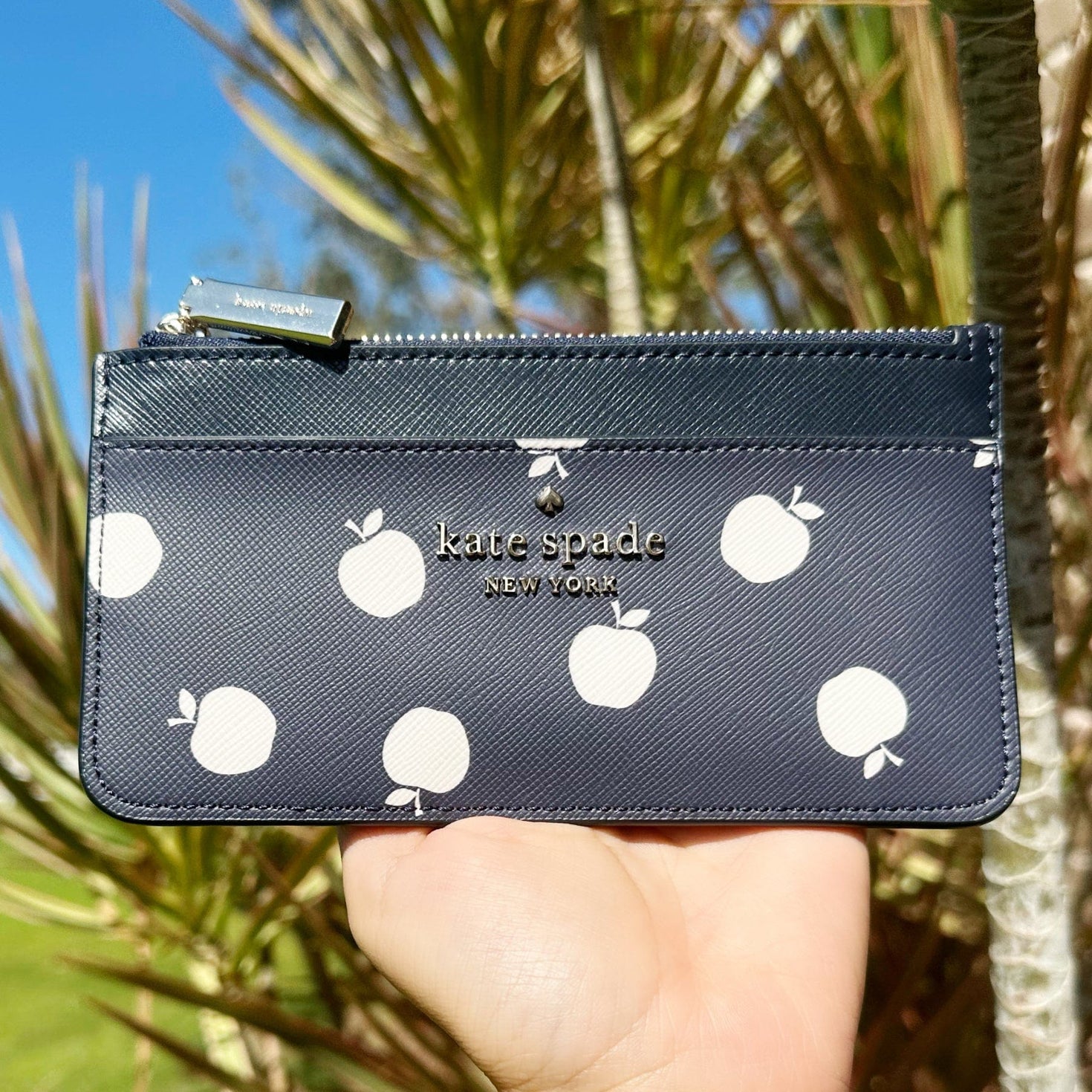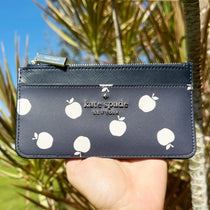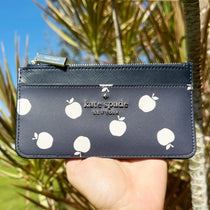 PRODUCT INFORMATION
SHIPPING
BAG SIZES
CUSTOMER REVIEWS
PRODUCT INFORMATION
The Kate Spade Large Slim Card Holder in the Orchard Toss Apple design on a blazer blue backdrop is a playful and practical accessory. Its slim design is perfect for organizing your cards while showcasing a fun and lively pattern, making it a stylish choice for everyday use.
DETAILS:
Saffiano Leather

Style: K8307

Color: Blazer Blue

Two way spade jacquard lining

Orchard Toss Apple Pattern

Top Zipper Pocket

Front slip pocket

Back full slip pocket

Gold tone hardware

6 credit card slots

Dimensions: 3 1/2" H x 6 1/2" W
SHIPPING
Shipping

All order are shipped same day if ordered by 1:00pm EST. However, instances may occur where your order is flagged by our loss prevention team for further review. In order to continue processing your order, you may be requested to provide supporting documentation to prove you are the payment method's primary or authorized user.
Once an order is processed and shipped you will normally receive your item in a few business days via USPS Priority Mail or FedEx Ground, unless a different shipping method was selected during checkout.
Limited Offer:
Get free USPS ground shipping* with no minimum purchase requirement. Use code: USHIP valid only in the United States. 
*Save up to $20 on shipping fees. Fees fluctuate per area so it covers ground shipping via USPS or UPS.
BAG SIZES
At Gaby's Bags, we want to clarify how we label our products' sizes. We take our cues directly from the product tags, as provided by the original designers.
It's essential to recognize that there's no one-size-fits-all standard for bags in the United States. Each brand assigns sizes according to their unique design perspective and the products they release in a given year. For instance, the "Michael Kors Jaycee Medium Backpack" is precisely what you'll find on the sales tag. This name relates to how it fits within Michael Kors' lineup for that particular year and should not be misconstrued as a comparison with other bags.
We kindly urge you to refer to our product descriptions for accurate sizing information.
Additionally, we'd like to introduce you to our model, Gaby. She stands at 5 feet 1 inch and weighs 110 pounds. While her petite frame complements our bags beautifully, it's essential to consider her proportions when evaluating our products. Sometimes, people attribute size misconceptions to Gaby's stature, so please keep this in mind as you browse our selection.
Here's a helpful tip for accurately gauging the size of the bag you're eyeing: measure a bag that you currently use. By comparing the dimensions of your own bag to the specifications provided for the bag you're interested in, you can get a much better sense of its actual size. This practical approach ensures that you'll have a clearer picture of what to expect when you order your new bag, allowing you to make a confident and stylish choice. Happy shopping!